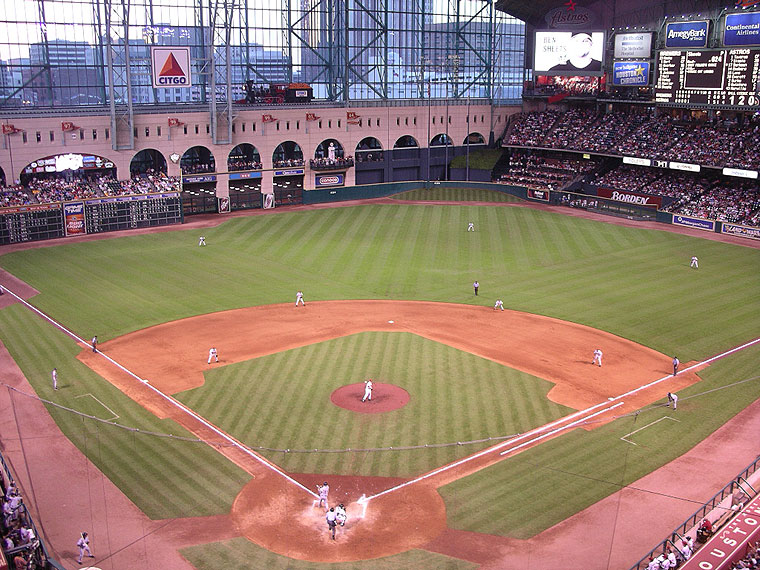 Minute Maid Park was doomed from its first day back in 2000 to be a shitty ballpark forever.

There are numerous reasons for this distinction including, but not limited to, this list:

The fucking Astros play there. I hate them.

This fucker threw out the first pitch ever in the stadium.
This douche roamed its field for too many years just so that he could set shitty records like "most number of bean balls taken with pussy armor on."
It was named Enron Field.
Those are just a few that I could think of before I started getting a massive headache thinking about how much I hate the Houston Astros and Enron Field. Hold on, I need to take a quick break to regain my thoughts now.
Alright, I feel much better now. Whew.
However, by far the worst part about
Cheney Corruption
Field is the layout of it. You know what I mean... look at the actual field:
First, there is that terrible leftfield porch that even Eddie Gaedel could pop one over. In watching games over the years, I'm fairly sure that 300 of Sosa's dingers and all 449 of Jeff Bagwell's homers are due to that 315 ft leftfield wall.
Then, you shift a little towards center, and you find that giant gap that is created by the drawn-in leftfield. This makes completely no sense because it essentially creates an area out of view to anyone sitting in the stands or watching on TV if the is ball hit back there. Completely logical, especially considering that the point of the field is to allow the fans to fucking
watch
the game. Only the Astros would screw this up. That janky gap also creates situations like the other night in which Jason Michaels (huge douche,
look at his hair
) can pretend he caught the ball in order to try and win the game. Also, Ed Wade knows how to put together a roster really well since he signed this
nimble fielder
to cover all that ground in the janky gap.
I understand what they were trying to do with that leftfield and gap. The Astros, like every other team getting a new stadium, were trying to create a ballpark with unique nooks and crannies similar to that of older parks. But they completely failed.
The most epic example of the organization's failure is this:
Seriously. What the fuck? Who puts a fucking
hill
in the middle of the field. A HILL! Even I played on fields that were completely flat back in little league! Come on!
All it has done over the years is making 'Stros outfielders look like idiots while allowing
one man
to laugh in the faces of those who tried to stop him and his golden glove.
And then you can't forget about that centerfield pole that you can see in the picture above. If you notice, you can't even see the yellow line in that shot because it is so fucking high off the ground. Really? If I crush the ball 550 feet to center, but it hits your gay pole, I am only rewarded with a double (of course, I would be admiring my blast while trotting to first)? I really wish that players could still be roided out just so that one could destroy a ball, hit that pole, flip out with roid rage, and then choke every member of the Astros organization in anger over not having hit a home run. That would make my day.
That's right Houston, you have a shitty stadium. That's why
this
felt so good. I only wish that blast had knocked your entire P.O.S. stadium to the ground.